Real Estate Report
The CBSREC Winter 2021 Report is out!
2020 was certainly full of surprises and real estate in the Florida Keys was no exception. If you are a visual numbers person, you will enjoy the charts in the report, particularly how the market was affected near the early part of the COVID-19 pandemic, a time period in which the Keys were effectively locked down.
Keyswide, the number of properties available for sale is down 31.4% and is at a 15-year low. Combined with the surge in the number of pending sales, the forecast is for a strong market until some of these fundamental indicators change.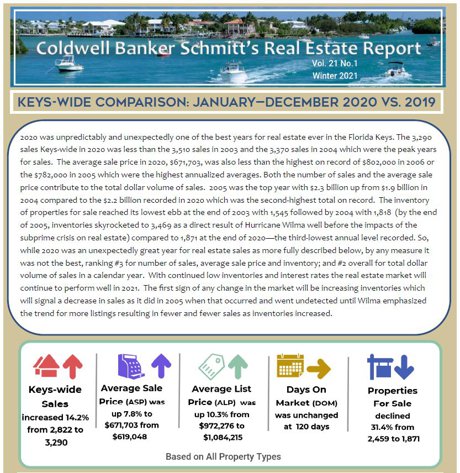 As has happened since 2004, Coldwell Banker Schmitt Real Estate Company continues to lead the market, most recently selling more properties than the next 5 companies combined. CBSREC was involved in 23% of all sales in the Keys.